VISTA POP WARNER FOOTBALL AND CHEER
Mission Statement: "The mission of Vista Pop Warner is to provide a FUN environment for our participants that fosters excellence in academics, while teaching the value of hard work in a team environment.  With Football and Cheer as the tools, our participants become better young men and women, our parents have the opportunity to develop their leadership skills and our staff accepts the challenge to improve the league each year."

Vision Statement: "Our vision is to be champions in life using the value system earned as a scholar athlete as the vehicle for success in any endeavor."
Concussion Statement: "Vista Pop Warner is committed to player safety.  We are a Tackling League that employs the USA Heads Up Tackling methods learned through USA Football Tackle Coaches Certification, as well as implements the Seattle Seahawks Tackling Instructional Video by Head Coach Pete Carroll. In 2015 this Hawk Tackling Update was released with additional talking points. Watch system founder Coach Rocky Seto do a film breakdown here.  Concussions will never be eliminated in any sport we are dedicated to making the game as safe as possible while maintaining the game's toughness." 

Vista Pop Warner Football and Cheer  a 501(c)(3) Non Profit Organization Fed Tax ID: 33-0807324.
We greatly appreciate your tax deductible donations!
---
Connect your family with the VPW family!
Add the VPW Google Calendar to your devices today!
Home Field: Vista Pop Warner 151 Civic Center Dr, Vista, California 92084 (Map)
---
A MESSAGE FROM PRESIDENT BLAS
It's Vista time, It's Vista time!!! What, What!!!
June 23, 2016
Who's ready for some Football!?!?
I KNOW we are!!!
On behalf of 2016 Board of Directors, Coaches, and team staff I'd like to welcome the 2016 participants; new and returning. We are all looking forward to a phenomenal season in which the children learn, grow and play with Vista Pop Warner.
We continue to make progress in reducing the financial deficit created by the unfortunate actions of Rachel Owens. We will continue fundraising efforts through out the season to eliminate the debt sooner than later. By coming together as a VPW family we can accomplish this!
There are current board member positions available and would love to have additional help. We have a new board member Lisa LaurelTorres at Treasurer and former board members in new roles; check them out on our website. Thank you Lisa for stepping up and helping during this critical time!!!
Your President,
Gaby
"The greatest accomplishment is not falling, but in rising again after you fall."
– Vince Lombardi
Have a Great day!!
*Excerpt from our latest Newsletter
---
---
WE BUILD CHAMPIONS!
2015 Pee Wee Island/Mainland, WESCON & Palomar
Division III Champions
2015 Midget Cheer Florida and Las Vegas Nationals Qualifiers

2015 Pee Wee Cheer Las Vegas Nationals Qualifiers
 
---
VHS Pop Warner Night
Friday September, 16th
Time: TBD
Location: Vista High School
This is a time for our Cheer and Football players to get some recognition before the Varsity game.
Players to wear there team Jerseys or VPW "Swag"
Hope to see you all there
---
Origami Owl Fundraiser
Help support VPW by doing a little online shopping
Visit the link located on the flyer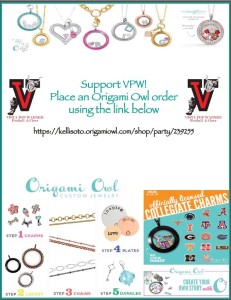 ---

Sunday, August 28 at 9 AM – 12 PM
Let's clean out those closets for Vista Pop Warner Football & Cheer!
We all have unwanted textiles that are out of fashion, not needed, or no longer fit. Instead of throwing them into the trash where they'll simply add to our Nation's growing landfills, give your clothes a second life by participating in our textile collection drive!
Accepted Items: CLOTHING new/gently used; PAIRED SHOES, TOWELS, SHEETS, BLANKETS, QUILTS, BACKPACKS, CURTAINS/DRAPERY, PURSES, BELTS, TABLECLOTHS, PLACEMATS, STUFFED ANIMALS and MORE!
We cannot take glass, breakables, electronics, pet beds, bed pillows, carpeting, uniforms, or hotel/hospital linens, or bulk items from thrift stores.
If you are interested in hosting an event for your team, group or club or would like more information please contact Elina Oda at elina@clothesforthecausefundraising.com 714-463-4890
---