VISTA POP WARNER FOOTBALL AND CHEER
Mission Statement: "The mission of Vista Pop Warner is to provide a FUN environment for our participants that fosters excellence in academics, while teaching the value of hard work in a team environment.  With Football and Cheer as the tools, our participants become better young men and women, our parents have the opportunity to develop their leadership skills and our staff accepts the challenge to improve the league each year."

Vision Statement: "Our vision is to be champions in life using the value system earned as a scholar athlete as the vehicle for success in any endeavor."
Concussion Statement: "Vista Pop Warner is committed to player safety.  We are a Tackling League that employs the USA Heads Up Tackling methods learned through USA Football Tackle Coaches Certification, as well as implements the Seattle Seahawks Tackling Instructional Video by Head Coach Pete Carroll. In 2015 this Hawk Tackling Update was released with additional talking points. Watch system founder Coach Rocky Seto do a film breakdown here.  Concussions will never be eliminated in any sport we are dedicated to making the game as safe as possible while maintaining the game's toughness." 

Vista Pop Warner Football and Cheer  a 501(c)(3) Non Profit Organization Fed Tax ID: 33-0807324.
We greatly appreciate your tax deductible donations!
---
Connect your family with the VPW family!
Add the VPW Google Calendar to your devices today!
Home Field: Vista Pop Warner 151 Civic Center Dr, Vista, California 92084 (Map)
---
A MESSAGE FROM PRESIDENT BLAS
September, 11th 2016
Hello VPW friends and family!!
What a busy weekend!! Three home games & picture day Sunday, everyone looked great!! Coming up this Friday is VPW night at Vista High School. All VPW participants get to walk on the football field, teams are announced, and we get to watch the Varsity team warm up. VPW cheerleaders get to cheer with the high school cheer squads down on the track for a little while as well! It's fun and exciting to be down up, close, and personnel with the "big boys!" Looking forward to seeing everyone there!!
Gaby Blas
It's Vista time, It's Vista time!!! What, What!!!
*Excerpt from our latest Newsletter
---
 Week 7 Scores
10/15
Jr Varsity
Vista Panthers 40 vs Oceanside lighting Pirates 8
Vista Fighting Panthers 38 vs Torrey Pines Falcons 0
Pee Wee
VC Jaguars 28 vs Vista Longhorns 18
Jr. Pee Wee
Temc Golden Kodiaks 26 vs Vista Panthers 6
Mighty Mite
Vista Jr. Panthers 6 vs SR Falcons 19
Flag
Vista Little Panthers L vs Esc Wild Wolves W
---
Upcoming Games
Week 8, October 22th 2016

Jr Varsity
19:00–Vista Panthers vs PQ Marauders: Vista Magnet Middle School

18:00– Mur Redhawks vs Vista Fighting Panthers: Murrietta Valley High School
Pee Wee
13:00– TP Falcons vs Vista Longhorns: Torry Pines High School
Jr. Pee Wee
11:00: LCC Mavericks vs Vista Panthers: La Costa Canyon High School
Mighty Mite
9:00: Vista Jr. Panthers vs TP Falcons: Torry Pines High School
Flag
8:30-17:00 Vista Little Panthers: Flag Fest Vista Magnet
---
WE BUILD CHAMPIONS!
2015 Pee Wee Island/Mainland, WESCON & Palomar
Division III Champions
2015 Midget Cheer Florida and Las Vegas Nationals Qualifiers

2015 Pee Wee Cheer Las Vegas Nationals Qualifiers

---
Origami Owl Fundraiser
Help support VPW by doing a little online shopping
Visit the link located on the flyer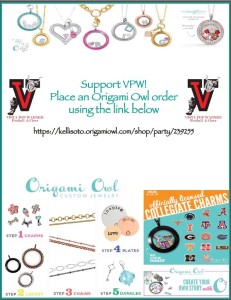 ---
Poinsettia Bowl
Youth Football Night
Wednesday December 21st
6:00 p.m.
Pre-game parade around the field for the players, coaches and cheerleaders
All participating teams will have a picture taken during the pre-game parade
Tickets are on sale in the snack bar for $35.00